---
Please check for Updates at the bottom of this page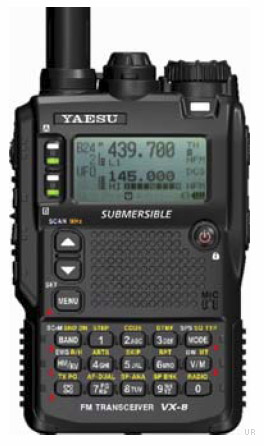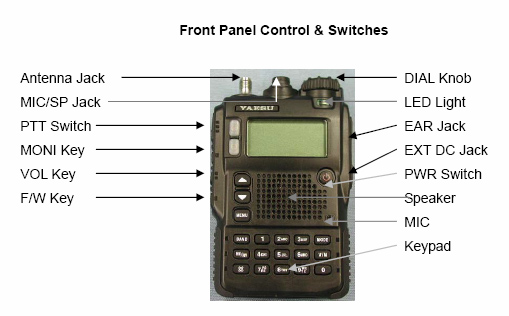 Here is the new YAESU VX8-R
I caught a "Whiff" of this one in a YAHOO Group posting and it got me interested. All of you who know me....or have looked at this website know that I am a big Yaesu Fan. This handie should be coming to my shack in the near future. But so far I can't get any real infomation on it. I recently found a 2nd YAHOO GROUP and this one seems to have a few more members in it who might be able to give us more information.
I was looking at the VX7R, the Kenwood TH7A, and even the ICOM 91AD with DSTAR.
APRS/AX25Packet was one feature that I wanted and according to what I have "heard" so far the VX8R has that capability. If that rumour is true...Then it will be the front runner. YAESU and APRS. A win/win situation.
The specs as I believe them to be from information from Various websites are:
Type: Amateur VHF/UHF transceiver
Frequency range: TX: 50-54 / 144-148 / 222-225 / 440-450 MHz (USA)
RX: ?-? MHz (Cellular blocked in the US)
Mode: TX: FM
RX: AM/FM/WFM
RF Power output: Hi: 5/5/1.5/5 W
Mid: ?/?/?/? W
Lo: ?/?/?/? mW
Receiver system: N/A
Sensitivity: N/A
Selectivity: N/A
Image rejection: N/A
Voltage: 7.4 VDC (1100 mAh Lithium Ion pack)
3*R6/AA dry cell case option.
Current drain: RX: ? mA
TX: ? A
Impedance: 50 ohms, SMA
Dimensions (W*H*D): 60*95*23 mm
Weight: ? gr
Manufactured: 2008-200x
Other: Waterproof/submersible (IPX57).
***Built-in packet modem 1200/9600bd with APRS support.***
(You can tell I'm excited about this one)
Bluetooth and GPS options. Barometric sensor.
Weather alert. Alpha tags. Spectrum display. CTCSS/DCS. Twin RX.
It seems that information is changing almost on a daily basis. It seems strange that some of the radio vendors are giving more information out rather than the manufacturer itself.
A "GOOGLE" search of VX8-R will bring you the latest information...
So far a Picture and the specs have been from Rigpix
The picutre of the keypad is from Universal Radio
Those of you know me, know that
is my preferred brand of equipment and seeing that I am in need of a new handheld unit as my old one was purchased during the 1998 Eastern Ontario Ice Storm and its getting to the point where its cheaper to buy a new unit, rather than get a new speaker mike, and then pick up a couple of battery packs I am eagerly awaiting this units arrival in Canada so I can get a look at it in person then make my decision. The arrival of the VX8 will no doubt lower the price of the VX-7's and VX-5's but to be honest I am looking forward to the VX8-R
I was made aware of this You Tube Video by VA3STL (Thanks for the info Alan)
It mentions some of the VX8-R info around the 3:10 min mark
I will continue to gather information on the unit and it will be posted as it comes in on my Blog
AUGUST 7TH 2008 LINK TO VX8-R MANUAL
+++++++++++++
AUGUST 14 UPDATE
According to the Universal Radio website we should be seeing the VX8-R sometime in September:
"The VX8R is expected late September, 2008. Information shown is preliminary and subject to change"
Hopefully it will be available in Canada in time for my birthday in November....
++++++++++++
AUGUST 17 UPDATE
This was copied from the Yahoo Group for the VX8-R which I recommend you join. Actually i recommend you join all the Yahoo Groups as you will get the same info I'm getting first hand. I appreciate all of you who check here for information but just incase I miss something....
"Hello.
Turns out that there are now 2 VX-8R groups?!
Anyhow, I have one of the preproduction units, final firmware.
Since I have the radio now, I can entertain some questions.
First off, the radio does not do the APRS, the speaker mic does.
With that said, the rate is set with the radio.
Next, the radio can do "1200 and 9600", correct, but this is just like
the Kenwood TH-F6A
What is being referred to is the ability of the RADIO to accept a TNC
at the 2 rates, one being a high level audio and the other being a
more direct discriminator and modulator tap.
The Speaker-Mic only has the default rate setting, but this is subject
to change.
Audio quality is OK, but it is a talkie after all."
Please note that I changed the color of the above line to red to draw attention to one of my earlier concerns. It seems the speaker mike not only has the GPS unit but it also has the TNC. This now clarifies an earlier indication that you could buy a cable that would allow you to connect a TNC to your VX8-R and I was wondering why would you want to if the radio had a built in TNC.
++++++++++++
August 25th Update
New LINK to photos of VX8 and accessories
Please visit: js1lqi.blogspot.com
++++++++++++
I am still looking forward to its arrival in the USA because once it arrives south of the border it can only be a short time till it makes it up here. My birthday is in November and everyone knows Christmas is in December so if my family is checking this website or my blog remember you now have two chances to get one for dear old Dad...
++++++++++
Continue on to the next page on my website
---