---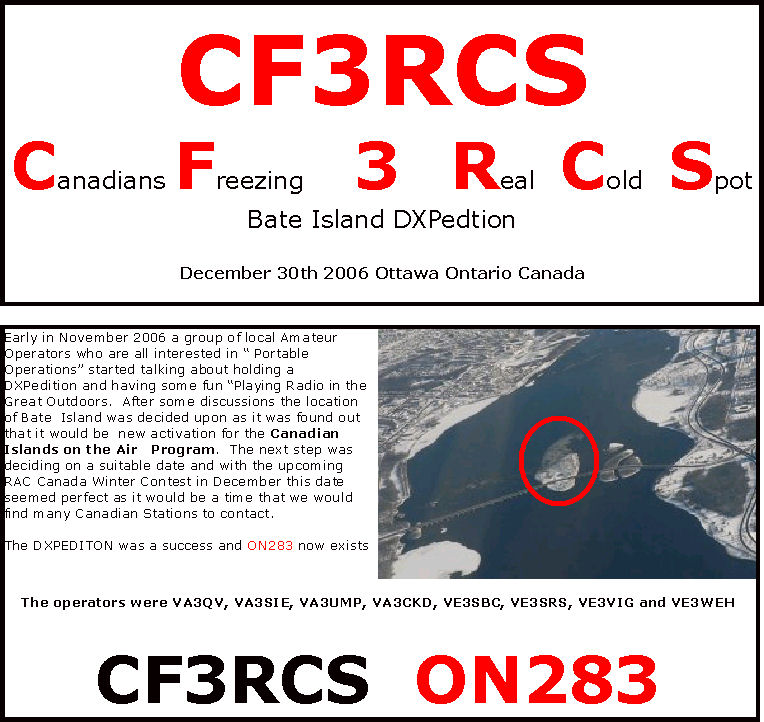 Click HERE for a link to Google Maps for Bate Island
This was extreme "Picnic Table Portable" operations at its best...Snow, Ice, Cold and an Island in the middle of the Ottawa River...Does it get any better than this???
As Bate Island had not been activated before this was also a new activation for the Canadian Islands Award Program.
The Canadian Islands Award Website can be found here.
http://www.qsl.net/ve3tpz/cisa/
---
Thanks to the Manotick Amateur Radio Group for mentioning us on their website. Check out
www.ve3rix.ca
Thanks also go out to the West Carleton ARC for mentioning us on their website. The WCARC also gave us some very good publicity on their weekly VHF SSB net on Dec 26th as it was the major topic of discussion after the new DSTAR update.
Check out their website at:
www.wcarc.on.ca
---
I would like to thank the NCC for allowing us to have the chance to operate from Bate Island.
Continue on to the VA3QV Website
---